With decent accuracy, good accuracy, and respectable damage, the basic Machine Gun is a modest weapon, but devastating in the hands of a capable user.
Machine Gun

In-game stats

Type

Tier 1 Machine Gun

Level

1

Cost

Free

Firing Type

Automatic

Damage

16 per hit

Critical Damage

None

Ammo Capacity

100/150

Most Effective At

Close, Mid-Range
The Machine Gun is a fully automatic weapon that is given to every newly registered player account. The weapon deals 16 damage per shot at a decent rate of fire. By holding the secondary button (Default: right click), the user can aim down the sights. Aiming down the iron sights doesn't seem to increase the accuracy and is harder to see with the gun angling slightly upwards; in the way of the players sight of where they're aiming.                 == Previous Models of the Machine Gun ==

=== Early days of Uberstrike: (2009-2010) ===   
=== Middle ages of Uberstrike: (approx 2011-2013) ===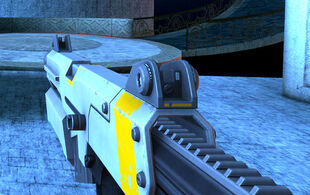 Present Uberstrike: (2013-)
Edit
Ad blocker interference detected!
Wikia is a free-to-use site that makes money from advertising. We have a modified experience for viewers using ad blockers

Wikia is not accessible if you've made further modifications. Remove the custom ad blocker rule(s) and the page will load as expected.