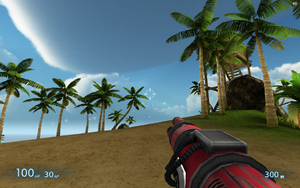 The Shadow Gun Is Cool But Useless.
2,600 or 325 creds for permanent.
the Shadowgun is one of the most common weapons you will see, that you will like to have but then you'd know that in the back of your head you will die.
It's a useless machine gun compared to the reg. machine gun. Though if you do want to buy it just because it looks different than the regular machine gun, go ahead but remember you'll do like 12 or 13 damage .
How to Buy
Edit
Buy It For 2,600 coins or 325 credits.
Ad blocker interference detected!
Wikia is a free-to-use site that makes money from advertising. We have a modified experience for viewers using ad blockers

Wikia is not accessible if you've made further modifications. Remove the custom ad blocker rule(s) and the page will load as expected.