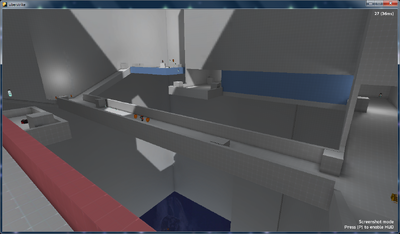 Space City use to be a small map but as of June 28, 2013 it has been expanded into a larger type of map. Space City is a good close range and medium range combat map where Machine Guns and Shot Guns are a good choice of weapons when battling but as for long range sniping you won't be able to see much because the map has walls and obstacles that enemies can take cover behind making sniping a bit difficult however there are balconies that can be used for sniping because they over look part of the level. Be careful because you can fall off the map if your not careful (like if you jump over some of the walls)
Ad blocker interference detected!
Wikia is a free-to-use site that makes money from advertising. We have a modified experience for viewers using ad blockers

Wikia is not accessible if you've made further modifications. Remove the custom ad blocker rule(s) and the page will load as expected.